The Chosen Man
and why he was chosen.
The plot behind the plot or conspiracy in The Chosen Man came into being after a series of vaguely connected events a few years ago while I was planning the sequel to The Empress Emerald. One evening, as I was watching victims of the U.S. mortgage crisis being interviewed on a television, I saw the link between the loan scandals happening in the USA and Britain and the get-rich-quick ethos behind the 17th century Dutch scandal known as 'tulip mania'. Then we heard about how just one person was responsible for a major French banking scandal and there was the collapse of Lehman Brothers, and the wicked but charismatic rogue Ludo da Portovenere came into being.
The story in The Chosen Man centres on the Dutch tulip bubble. At its height, in the early spring of 1637, a Dutch merchant paid 6,650 guilders for a dozen tulip bulbs. At that time 300 guilders would have kept an entire family for a whole year. The merchant wasn't simply a rich man buying outrageously expensive the bulbs to plant and enjoy for their colour, he intended to sell on and make a profit – as his fellow Dutchmen had been doing for the past two years. Records document instances of farmers giving up their farms to acquire bulbs and men exchanging their homes for a just one single rare bulb. Artisans pawned or sold their tools to 'invest' in tulips. Between 1635 and 1637 everyone, it seemed, was trading in tulips. There were also connoisseurs, mostly belonging to the professional class, who spent huge sums on what they considered an object of art. All these people, merchants, artisans and lawyers, fell prey to this collective madness – why? .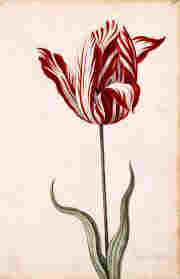 There is no single answer, but the socio-economic and climate conditions of the epoch were perfect for 'tulip mania'. During the 1630s there was a mini ice-age in northern Europe. Having lived in the province of Holland, I can fully appreciate why, once tulips had been introduced into northern Europe at the turn of the 17th century, they became so popular. Tulips bring colour and a promise of spring at the end of long, dark, tedious winters. If the weather was even worse then, no wonder people wanted something to brighten their homes and gardens. The 1630s was also the period known as the Dutch 'golden age'. The Protestant work ethic and the egalitarian nature of the Independent Provinces meant many more people now had a disposable income. It was a period of house-building and home-improvements; people were buying musical instruments and investing in works of art. But the plague was everywhere: death was quite literally on the doorstep. Dutch frugality and diligence had led to wealth, but many obviously feared they might not have the time to enjoy it and took to the excitement and risks in gambling. Plus of course, money could not be allowed to lie idle.
At an international level, the first half of the 17th century was a period of intense political intrigue in Europe. Spain had lost its Dutch provinces and was engaged in a protracted war to regain them. Cardinal Richelieu in France had signed a treaty with the Dutch, and was involved in 'arrangements' with the Vatican to hinder Spain in Flanders; French ships raided the Spanish fleet bringing supplies to its men. The Habsburg Emperor, Ferdinand, had vowed to impose Catholicism throughout his empire before his death and was harrying the Spanish monarch, Don Felipe, to win the fight in Flanders.

Statesmen throughout Europe were angling for power and control and then suddenly – apparently spontaneously - there is a financial bubble in Holland. It brought ruin to a number of wealthy people, the very people who used the Dutch banking system – which financed the United Provinces' resistance to the Habsburgs.

After watching the television coverage of the mortgage and bank scandals and the fall of the Lehman Brothers, I filed the connections away in my mind until some weeks later, while visiting the British National Trust property Cotehele in Cornwall in preparation for my second novel it all came together in an unexpected manner. I was being taken round Cotehele by Rachel Hunt, who told me the history of a Flemish tapestry merchant and his daughter; I saw her portrait and that of a 17th century Lady Edgcombe, a woman with a face that shows no trace of humour or forgiveness. This is the background to the heroine of the novel, Maria de los Angeles Catalina Fernanda Santoña Gomez (Alina), daughter of an impoverished Spanish grandee, and the one woman who does not entirely fall prey to Ludo's charm. But while this part of my novel is pure fiction, the events and conditions of Alina's life are based on the typical circumstances and social conditions of her rank and gender at the time, as seen at Cotehele.

After that visit, I set aside my original plan and started on The Chosen Man. I began my research on the assumption that there had been a conspiracy to undermine the Dutch banking system in an attempt to bring the United Provinces back under the Habsburg rule. However, I soon learnt Dutch banks had prohibited loans for tulip-buying so if there had been a conspiracy, which was very likely, the person or persons intending to bring about a financial collapse must have also been providing loans as well. I read more widely and found the Vatican had been playing a double game with Spain and Emperor Ferdinand: Pope Urban VIII wanted to limit Habsburg power, not bolster it. Cardinal Richelieu was also involved in this. The conspiracy would have needed someone to set things in motion, a troublemaker they could subsequently eliminate. The person chosen for such a task would, though, surely have been sharp enough to play his own game.

In my version of what happened, the bubble is inflated by the fictional Ludo, an unscrupulous Genoese 'rich trade' merchant who speaks the necessary languages and has no visible loyalties. He is selected by a Vatican cardinal and somewhat reluctantly agrees to the task knowing he can make himself rich in the process. During a long interview in a Spanish cortijo belonging to the Conde-Duque de Olivares, the Spanish monarch's first minister, Ludo sets his own conditions, however, and his price – a ship. But Ludo is wise enough to know from the start that he'll have to get away – right away and out of sight - before these powerful men need to erase all trace of what he has done, and for whom he has been acting.

As his name suggests, Ludo sees it all as a game, and he has no obligations to anyone – except perhaps Alina, but she has to decide whether Ludo is her chosen man.
---