News and awards
By Force of Circumstance, Book Three in The Chosen Man Trilogy, was published on 12th February 2019.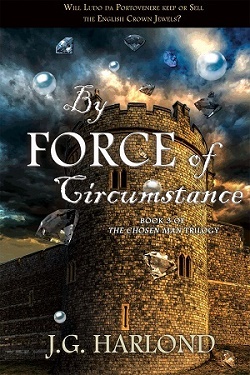 The final part of The Chosen Man Trilogy takes Ludo back to England against his will, but potentially offers him a means of making a great deal of money to assert himself as a member of the powerful Genoese Doria clan and a merchant to be reckoned with. That his plan goes awry due to the intervention of the lovely but ambitious Alina should come as no surprise – nor that Ludo has very mixed feelings about her acting as his accomplice at the royal court of Portugal in Lisbon.
As with the previous books, the background history to the novel makes fascinating reading. Specific details come from letters between Henrietta Maria and her husband, King Charles, plus secret reports sent to the Doge of Venice by a very perceptive envoy. Henrietta Maria really did try to sell historic gems belonging to the English Crown Jewels during the English Civil War: initially, she tried to pawn them in Amsterdam but when that failed, she resorted to selling them in any way she could. This is where Ludo steps in – to his own benefit, of course.
Ludo's story comes to a conclusion when he discovers his real identity, which is based on what happened in the Mediterranean during the 17th Century. What happens to Marcos in Plymouth is based on recorded history. Each of them is a victim of circumstance; as is Alina. But I'll leave you, dear reader, to decide whether Alina's choice at the end of the book was the right one, or not.
---
---
---
---
---
---